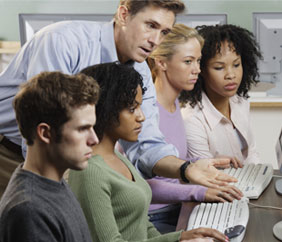 Computer Operations / Microsoft Office Certification - Program
Clients learn key boarding, internet and Microsoft Office applications (Word, Excel, Power-point, etc) in real business situations, using an individualized/self-paced instructional approach, which allows more time for clients requiring more attention and for others to move faster to advance features.
Our contextual learning techniques ensure that participants have the necessary customer service and life skills to succeed. Our approach is learner-driven and participants receive counseling to overcome any barriers they may have that are impacting their ability to succeed. Our job-coaching model provides targeted reinforcement to assist participants in the transition to employment. Participants are both ready to succeed and confident in their skills.
Minimum Enrollment Qualifications:
6th Grade Reading Level.
How to get stared - Find the center nearest you.
Choose Your Location
WorkForce Advantage Programs