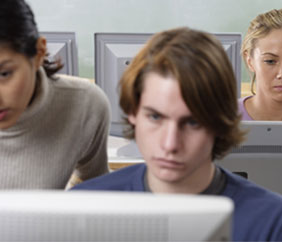 Pre-Occupational Computer - Program
Clients explore and prepare for the office field. Explore career options, requirements, tasks, responsibilities, employment opportunities and advancement; develop key boarding skills and are exposed to Microsoft products.
Curriculum's job related activities provide the context for the acquisition of skills. They incorporate employers' expectations for client skills and "life long learning". Students use cutting edge technology as a tool for learning and developing employability skills. Supplemental interactive materials enhance the curriculum.
The individualized, self-paced approach employs a tutorial model. A holistic motivational approach focuses on developing participant's intrinsic motivation.
Minimum Enrollment Qualifications:
None.
How to get stared - Find the center nearest you.
Choose Your Location
WorkForce Advantage Programs