Certified Nurse Aide
- Program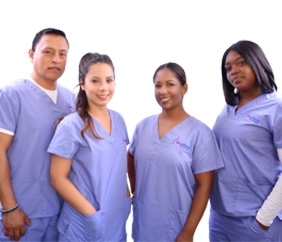 Students prepare for the State Certification and employment as a C.N.A in a local long term care facility or Hospital; done in partnership with major employers, who provide their facilities for the clinical training and hire all our graduates.
Workforce Advantage follows a learner driven approach which provides CNA training with hands-on experience in both a state-of-the-art on-site clinical lab as well as through externships at partnering long term care facilities. Program skills and knowledge are reinforced by tutors to assure students pass the skill test and written exam. Our contextual learning techniques ensure that participants have the necessary customer service and life skills to succeed. Participants receive counseling to overcome any barriers they may have that are impacting their ability to excel.
Our job-coaching model provides targeted reinforcement to assist participants in the transition to employment. Participants are both ready to succeed and confident in their skills.
Minimum Enrollment Qualifications:
6th Grade Reading Level as measured by the TABE Test, pass a background check and physical examination by a physician.
Pre-Registración
Pre-Register Now
WorkForce Advantage Programs